Is Hoboken or Jersey City Cheaper?
Posted by Michael Kotler on Wednesday, October 25, 2023 at 12:38:18 PM
By Michael Kotler / October 25, 2023
Comment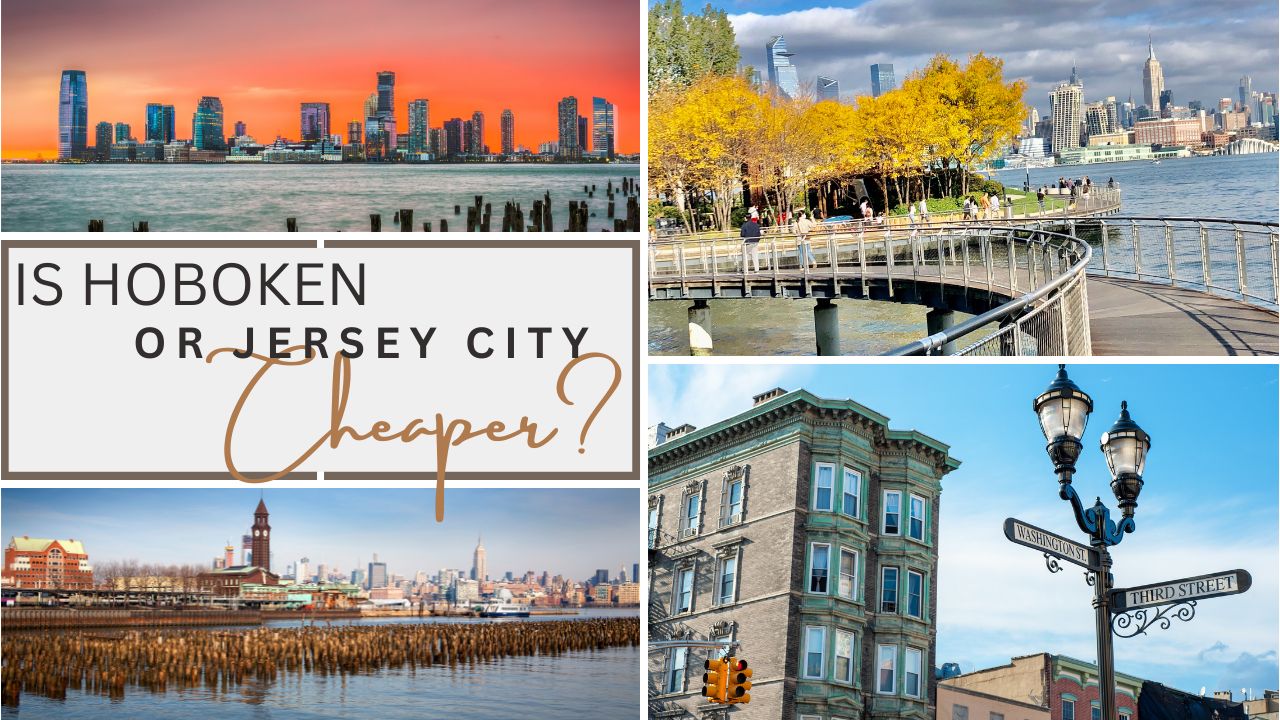 Jersey City and Hoboken, both in central New Jersey, are part of the vast New York metropolitan area. These adjacent cities provide an appealing combination of urban living, closeness to New York City, and distinctive lifestyles. However, there are some significant differences in the cost of living between the two. In this post, we'll look at the cost of living dynamics in Hoboken and Jersey City and help you decide which one is best for your budget and lifestyle.
Housing Prices:
Housing is one of the most important variables impacting the cost of living. Hoboken is expensive due to its stunning waterfront vistas and dynamic community. In 2023, the median home value in Hoboken was around $810,000, much more than the median home value in Jersey City, which was around $460,000. This trend is likely to continue beyond 2024, making Hoboken an increasingly costly place to live.
Rent in Hoboken is also more expensive. In 2023, the median rent for a one-bedroom apartment in Hoboken was roughly $2,800, compared to a more reasonable median rent of around $2,200 in Jersey City. Because the cost of living in cities often grows over time, these disparities in housing costs are likely to persist into 2024.
Transportation expenses:
Jersey City has a cost-effective advantage when it comes to transportation. Jersey City's public transportation system is well-developed, having access to PATH trains and buses that link to New York City. A monthly unlimited transportation card in Jersey City costs around $119 in 2023, making it more inexpensive than a similar pass in Hoboken, which costs around $138. This disparity in transportation expenses is likely to persist through 2024, giving continuous benefits to Jersey City residents.
Read more: Do I need a car to live in Hoboken?
Food Prices:
Food expenditures are comparable in both Hoboken and Jersey City, with comparable pricing for groceries and dining out. The cost of groceries and meals tends to change with inflation and market conditions, but the overall balance in terms of food expenses between these two cities is anticipated to stay till 2024.
Costs of entertainment:
Individual tastes influence entertainment prices, yet both towns have a diverse range of activities and attractions. Hoboken, on the other hand, stands out for its vibrant nightlife scene, with more clubs and restaurants per square mile than Jersey City. This could result in greater entertainment prices for those who frequent such places. If you want to save money on entertainment, Jersey City might be the better option in 2023 and 2024.
Overall Living Expenses for Hoboken and Jersey City:
Taking all of these things into account, Hoboken has a higher overall cost of living than Jersey City. This disparity is mostly due to Hoboken's much higher housing expenses and plethora of nightlife alternatives. Individual living expenditures, however, will vary depending on factors such as lifestyle, personal preferences, and location within each city.
Higher Cost of Living in Hoboken:
The appeal of Hoboken is its small-town charm and proximity to New York City, but this comes with a cost. As of 2023, the cost of living in Hoboken was 63% higher than the national average, with a median home sale price of $838,000 and an average monthly rent of $4,060. These data reflect the tremendous rivalry in Hoboken's housing market, which makes it one of the most expensive areas to reside in the New York metropolitan area.
Jersey City's Affordability:
Jersey City is a more affordable alternative to Hoboken, especially for individuals looking to avoid the high rental expenses of New York City. Jersey City's median home price in 2023 was $712,150, significantly lower than Hoboken's $838,000. Renters benefited from cheaper prices as well, with a monthly rent of $2,175 in Jersey City. These affordability benefits are predicted to last until 2024.
Cost of Living Index Comparison:
Let's look at the Cost of Living Index (COLI) to see how the costs differ between these two places. Jersey City's COLI was 29% higher than the national average in 2023, but much lower than Hoboken's, which was 40% higher. Hoboken's housing costs were staggeringly 210% more than the national average, while Jersey City's housing costs were 79% higher.
Taxes:
Taxes might also contribute significantly to your overall cost of living. In general, taxes in New Jersey are higher than the national average. Jersey City, on the other hand, has a slightly lower tax rate than the state average. In 2023, the state's average tax rate was 2.442%, while Jersey City's was 2.341%. Jersey City's tax rates are more advantageous than those in many other New Jersey communities, although being higher than the national average of 1.080%, making it a more tax-friendly option.
The Prosperous Economy of Hoboken:
Despite its greater cost of living, Hoboken has a thriving economy and a varied workforce. While its industries are not as prominent as those in Jersey City, Hoboken's closeness to large cities, particularly New York City, makes it an appealing commuter destination. This can translate into job opportunities that assist locals in overcoming the greater cost of living.
Finally, while deciding between Hoboken and Jersey City in terms of affordability cost remains a critical aspect. Can we answer the Is Hoboken or Jersey City Cheaper Question? Hoboken is unquestionably the more expensive alternative, owing to greater housing expenses and a thriving nightlife. Jersey City, on the other hand, is a more cost-effective option, with reduced housing costs, comparable transportation alternatives, and significantly lower tax rates. Finally, your decision should be based on your budget, lifestyle preferences, and career goals, as both places offer distinct benefits to individuals looking to be a part of the dynamic New York metropolitan area.