Do I Need a Car to Live in Hoboken?
Posted by Michael Kotler on Wednesday, October 25, 2023 at 12:37:39 PM
By Michael Kotler / October 25, 2023
Comment
Do You Really Need a Car to Live in Hoboken?
When it comes to living in Hoboken, New Jersey, the age-old question often arises: Do you need a car? Hoboken is a charming, vibrant city located just across the Hudson River from Manhattan. It's known for its historic brownstones, lively waterfront, and a community that thrives on walkability and accessibility. With its excellent public transportation options and the rising trend of the 15-minute city concept, the answer to whether you need a car in Hoboken may surprise you.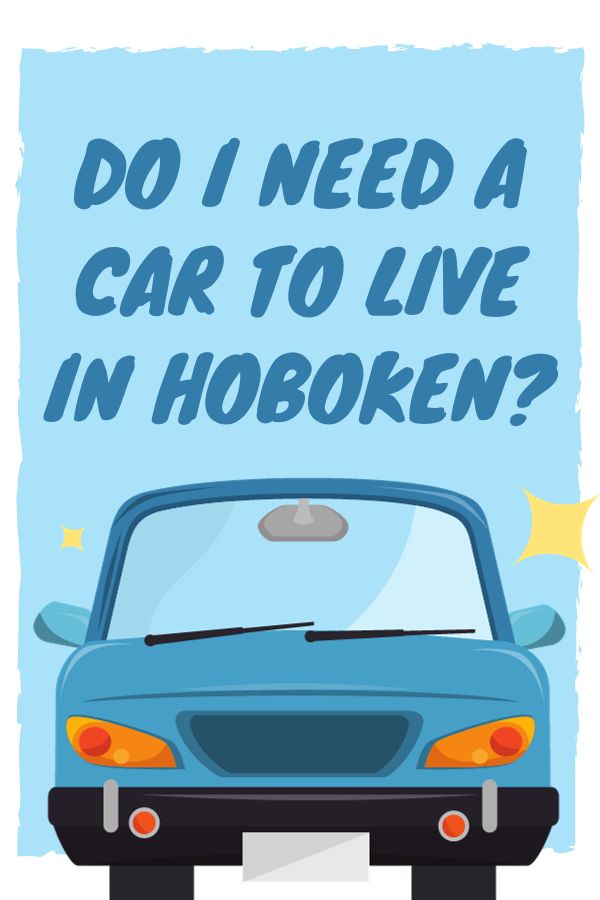 One of the key advantages of living in Hoboken is the ease of getting around without a car. Skip the taxi or rideshare, and just go on foot or jump on "The Hop," the free community shuttle bus service that features stops within two blocks of almost every resident. The Hop makes it incredibly convenient to move around the city, and it's just one of the many reasons why you don't need a car in Hoboken.
Public transportation in Hoboken is superbly accessible. You have the 126 bus on both Washington and Willow Streets, the PATH train, NJ Transit train hub, and the light rail. The 126 bus and PATH train are perfect for commuting into New York City, while the trains are ideal for traveling west or south. The light rail system is excellent for exploring along the Hudson River, including destinations like Edgewater. Whether you're commuting to work or exploring the region, Hoboken's public transportation network has you covered.
Advantages to Being Carless
One of the most significant perks of not having a car in Hoboken is the freedom from the hassles that car owners often face. Say goodbye to worrying about car insurance, parking permits, and tolls like the dreaded EZ Pass. Instead, you can enjoy the simplicity of walking or cycling to most of your daily needs.
In Hoboken, there's no shortage of public transit options, and it's easy to embrace alternative modes of transportation. The introduction of Citi Bike as the city's bike-sharing program is a welcome addition, as it aligns with the bike-sharing networks in nearby Jersey City and New York City. Additionally, Hoboken's compact size and flat terrain make it perfect for biking, scooting, or even just walking.
As micro-mobility options continue to expand, the city is planning to introduce protected bike lanes, enhancing safety for cyclists and creating a more welcoming environment for all road users. With these improvements on the horizon, Hoboken is poised to become an even more pedestrian and cyclist-friendly city.
Hoboken's history plays a significant role in its walkable and bikeable urban design. Most of the city was developed more than a century ago, at the turn of the 20th century. Like many other communities built during this period, Hoboken's human scale, density, and mix of residential and commercial spaces have created a truly walkable urban village. It embodies the essence of a 15-minute city, where residents can access most of their daily needs within a short walk or bike ride.
In fact, a staggering 75 percent of Hoboken residents do not own a car. Before the pandemic, approximately 56 percent of Hobokenites relied on public transportation to commute to work. This statistic underscores the city's commitment to creating neighborhoods where everything you need is just a stone's throw away. It's a testament to the success of the 15-minute city concept, which emphasizes the value of walkability and reducing the dependency on cars.
While Hoboken thrives as a car-free haven, it's essential to remember the historical context. In the 1950s, the United States witnessed the rise of car culture, leading to the construction of extensive roadways that prioritized automobile travel. Unfortunately, this era also saw the destruction of many urban neighborhoods in the process. The 15-minute city concept seeks to reverse this trend, aiming to create sustainable and livable communities.
In conclusion, the idea of needing a car in Hoboken is rapidly becoming outdated. With its extensive public transportation options, growing micro-mobility infrastructure, and a commitment to the 15-minute city concept, Hoboken is a prime example of a city where car ownership is not only unnecessary but also increasingly discouraged. By embracing the pedestrian and cyclist-friendly environment, you can enjoy the charms of this lively urban village without the burdens of car ownership, making Hoboken a truly unique and appealing place to call home.