6 Important Factors to Know Before Moving to Hoboken 2023
Posted by Michael Kotler on Monday, March 13, 2023 at 10:22 AM
By Michael Kotler / March 13, 2023
Comment
Hoboken New Jersey is located directly across the water from Manhattan, offering breathtaking views of the New York City skyline. Residents of Hoboken enjoy this dense urban lifestyle where you can find many delicious restaurants, fantastic parks, cafés, bars, and coffee shops, just to name a few. This quieter and significantly smaller city compared to the surrounding cities can be an attractive option for those looking to lead a more low-key lifestyle.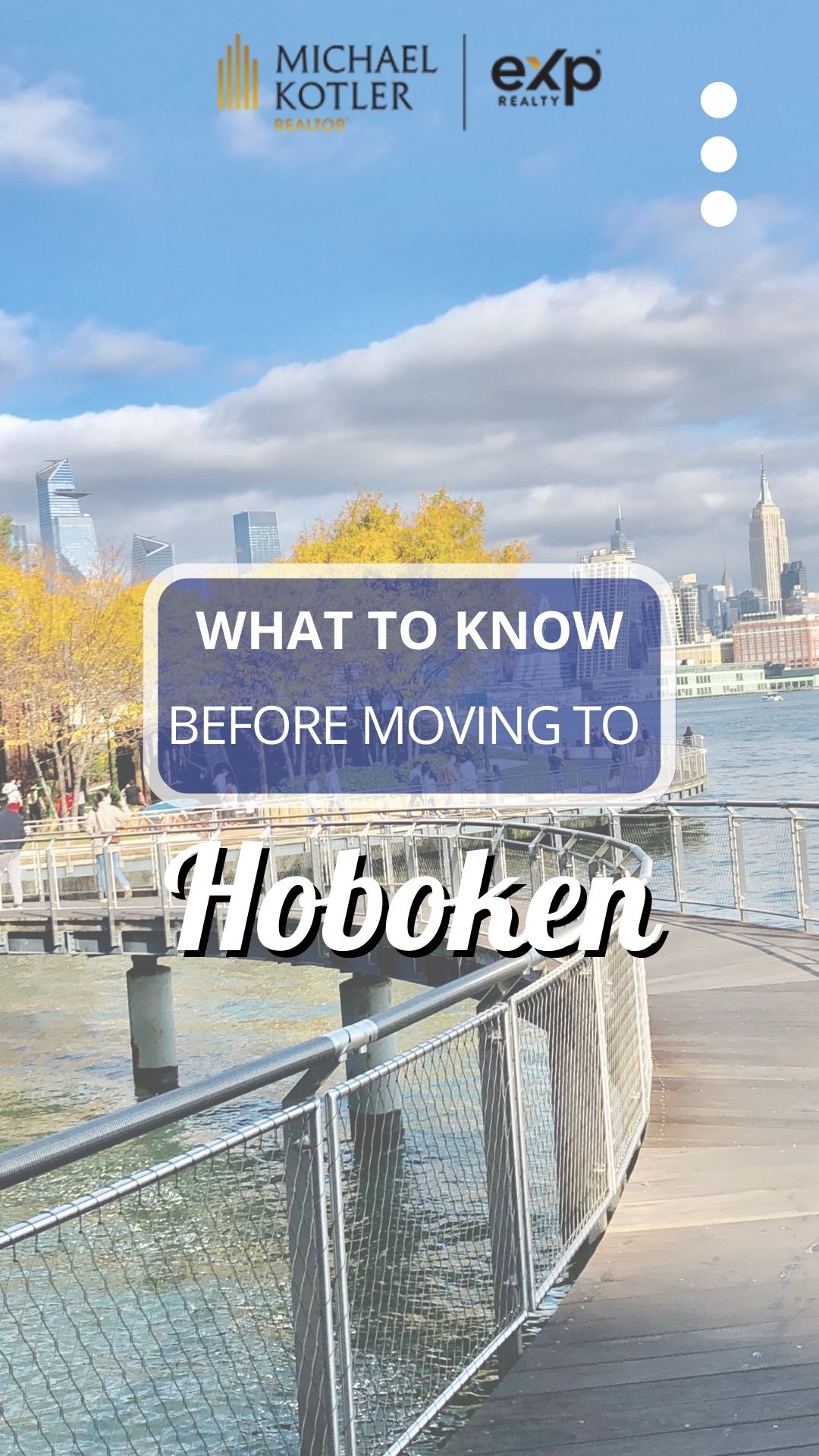 Hoboken is 1.25 mi.² in size and the median age of most residents is just 30. Hoboken offers many exciting nightlife options, beautiful architecture, and activities for young professionals, families, artists, and college students. While Hoboken is wonderful in its own way, it's important to know a few things before moving to ensure you know what it's like to actually live here.
6 Important Factors to Know Before Moving to Hoboken 2023
#1. Higher Cost of Living.
Now, this is relative because were definitely less expensive than neighboring Manhattan. But just because it's a small city doesn't necessarily mean it's going to be less expensive than surrounding cities, especially those in New Jersey. The housing cost is about 210% higher than the national average with the median rent for a single-bedroom apartment coming in at around $3500 a month. Downtown Hoboken is considered the less expensive area for living providing greater access to public transportation, attractions, shopping, and restaurants.
The median home value in downtown, which is typically condominiums, is about $686,000, which is less expensive than a waterfront home, which tends to run about 10% to 30% higher. Location can mean a lot when choosing where to live in downtown Hoboken.
#2. The Convenience of Public Transportation.
Hoboken has a variety of public transportation options such as the Path, the New Jersey transit buses, and even the NY Waterway Ferry. New Jersey's residents utilize more public transportation than just about any other city in the country. Parking in downtown Hoboken can be very difficult and costly, which is why most residents choose public transportation.
#3. Job Central
Hoboken is known as a business hub and a commuter city with close proximity to New York, Jersey City, and Newark. Hoboken attracts many folks looking to relocate to a low-key location with an easy commute. With a variety of high-end job opportunities such as nursing, software engineers, teaching opportunities and research assistants, residents may not even have to commute for a lucrative job position.
#4. Green Open Spaces
Despite being a more crowded city due to its smaller size, Hoboken is not without its big beautiful parks and green open spaces. Many parks and greenways are located right on the waterfront, giving a great view of both the Hudson River and the Manhattan skyline. There are many outdoor activities from concerts during the summer to picnics with family and friends and exploring the paths with bike rentals available throughout the whole city. Some waterfront activities include the following:
#5. Amazing Food Options
Hoboken is known for its amazing bars, restaurants, cafés, and coffee shops. We have the most bars and restaurants per square mile anywhere in the country. We have more ice cream and frozen yogurt spots than you can even count and you can basically get local coffee from any place in the city. Better yet, you can get your coffee, breakfast, lunch, dinner, and drinks all within about a one-block radius if you wanted to. Learn more about our fantastic restaurants and some of the best cafés and coffee shops in Hoboken here.
#6. We LOVE Our Pets!
If you own or plan to own a dog in Hoboken, you'll be pleased to know that it's an exceptionally dog-friendly town. With few exceptions, most establishments welcome dogs both indoors and outdoors, excluding restaurants and bars that serve food. This means that you can bring your dog almost anywhere you go. Additionally, there are numerous wide paths around town that are suitable for walking your furry friend.
However, finding housing with a yard can be a significant challenge for dog owners in Hoboken, particularly if you have a limited budget. It's possible that your living space won't include much, if any, outdoor space, and you may need to share common areas with other residents or visit a nearby park with your dog regularly.
As a result, many dog owners in Hoboken opt for smaller breeds, which are ideal for the city's modest living quarters and do not require much outdoor space for their bathroom needs. Some smaller breeds can even be taught to use indoor potty pads. Nevertheless, that does not imply that owning a large-breed dog is impossible in Hoboken; many residents have larger dogs. However, taking them for frequent walks and visiting local dog parks will be crucial for ensuring they receive enough exercise.
This is just a small sampling of things to know before moving or relocating to Hoboken New Jersey. For more information or to answer any of your questions you might have about living in Hoboken, call me! I live here, play here, work here, and love to hang out in many of the locations throughout the city. I look forward to helping you find your perfect Hoboken home or condo today.