10 Sightseeing Adventures While Visiting Hoboken 2023
Posted by Michael Kotler on Wednesday, March 1, 2023 at 5:49 PM
By Michael Kotler / March 1, 2023
Comment
One of the first sights you will see while visiting Hoboken, New Jersey is the stunning view of Manhattan across the Hudson River. Your attention may next be drawn to the charming attractions, museums, and restaurants that Mile Square City has to offer all its residents and tourists. From contemporary art in Barsky Gallery to a hand's-on learning experience baking cakes at Carlo's Bakery, Hoboken has much to offer from kid's-friendly activities to adult-only nights out, you won't be disappointed.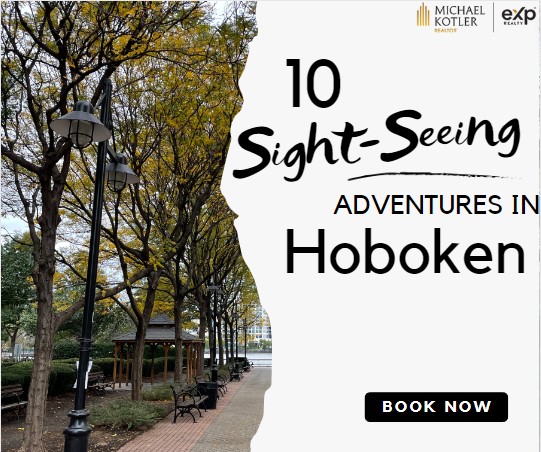 Continue to read to find the next best thing to partake in when visiting Hoboken, NJ and the NEHO neighborhood of Hoboken.
10. Barsky Gallery
As mentioned above, Barsky Gallery is Hoboken's local contemporary art gallery that hosts a collection of work from both emerging and established artists from the world's four corners. Here, any art-lover can find regular exhibitions of the art of diverse styles and techniques. For artists looking to get their pieces displayed, the gallery is famed for assisting both private and corporate clientele in commissions. This gallery is also not shy about hosting elegant and popular private events, the perfect venue to expose the public to contemporary art and artists alike.
9. Hoboken Historical Museum
Located in what the residents of Hoboken refer to as "The Shipyard," the Hoboken Historical Museum was established in 1986 along the colorful waterfront in a historically celebrated building. The museum collects, displays, and preserves artifacts and oral histories of both modern and historic times. Such displays reflect the city and its inhabitants. Here, you and your family can take educational programs and tours! Some exhibitions celebrate the life of Hoboken resident Frank Sinatra and baseball's role in the town's history.
8. Hoboken Farmer's Market
From June through October every Thursday, from 2 to 7 pm, farmers gather from all over the Garden State on the little corner of 13th and Hudson to show and offer the freshest products at the Hoboken Farmer's Market. Food. growers and artisans work hard on their products from bread bakers to tomato growers to mozzarella makers, all for Hoboken residents to eat fresh and healthy. You can taste test on the spot and bring home enough goods for dinner until you can stop by and come again.
7. Resilience Paddle Sports
There is nothing quite as enjoyable or relaxing as taking an early morning paddle on the Hudson. At Resilience Paddle Sports, you can find both classes and tours available to visitors to enjoy the view of the water and get their fitness on. Working alongside Pier 13 Boating Club, both adults and children are offered paddle boarding and kayaking classes. The goal in mind is to promote residents of Hoboken to engage in awareness of the river environment, as well as its stewardship.
6. Puzzle Out Hoboken
At Puzzle Out Hoboken, you will be sure to find both a fun and challenging escape room game. Both venues are located in Hoboken and Jersey City. With one escape room for you to try, this activity makes for a fun afternoon spent honing in on teamwork to solve the multitude of puzzles that will lead to the mysteries that is the escape room.
5. Hoboken Riverside Park
Looking for an escape outdoors? Check out Hoboken Riverside Park during the summer months for some refreshing time in nature. When in the park, you can have the opportunity to view the beautiful Manhattan skyline and the scenic view of the skyscrapers towering out of New York. There are bikes available for rental in the park, with many paths to explore on wheels. There is a boatload of activities that take place in the park as well, from fireworks during the night on the 4th of July to concert venues, there is plenty of fun to be had in the well-maintained open grass field.
4. Sybil's Cave
One of the oldest artificial structures in Hoboken, Sybil's Cave is a historical museum built in 1832 by the Stevens family. Originally acting as a fully that contained a natural spring, the cave became a recreational destination by the mid-19th century. Rediscovered in 2007, the cave was cleared by the city of Hoboken and is now a mysterious place to discover. Make sure to bring a flashlight! In addition, after all the exploration, there is a restaurant outside the cave that offers visitors outdoor refreshments.
3. Hoboken Arts & Music
Expect to get up close and friendly with the culture of Hoboken and its residents at the Hoboken Arts and Music Festival. This festival first made its appearance in the fall of 1994. Here you can find live performances, food vendors, local businesses, crafters, and more! This festival is kid-friendly and with great music, great food, and locals, the Hoboken Arts and Music Festival is a must-see for visitors from all walks of life.
2. Rock Climbing at Gravity Vault
A new addition to Hoboken, club to new and stunning heights at Gravity Vault, an indoor rock climbing gym. Whether you are a professional or a first-time climber, you are sure to have a great time. Here, you can book a membership, come for only the day, or host a birthday party. There are also yoga and climbing classes available, and no matter the occasion, at Gravity Vault, you are sure to find a great time paired with a great workout and loads of fun!
1. The DIY Joint
At this do-it-yourself establishment, you will be able to establish an empowering experience while flexing your HGTV muscles. At The DIY Joint, you can build something useful and fun at the woodworking classes available. All the tools you need will be provided for you upon arrival, with an instructor leading. the way. All you have to do is create something you can be proud of.
For more local information on Hoboken, NJ and fun activities or to check out the popular NEHO neighborhood in Hoboken, please browse the website.