10 Greatest Bars & Hangouts in Hoboken 2023
Posted by Michael Kotler on Wednesday, March 8, 2023 at 5:08:57 PM
By Michael Kotler / March 8, 2023
Comment
Fun fact: the city of Hoboken is 30% cheaper than NYC.
This list takes a look into the most active and fun bars frequented by locals and should be on the radar of visitors to Hoboken, NJ. This mini-city is home to great nightlife locations with many spectacular views. With abundant musical performances and the best bar food, these locations will not leave you wanting. Read on to know exactly which bars are the best hangouts in Hoboken.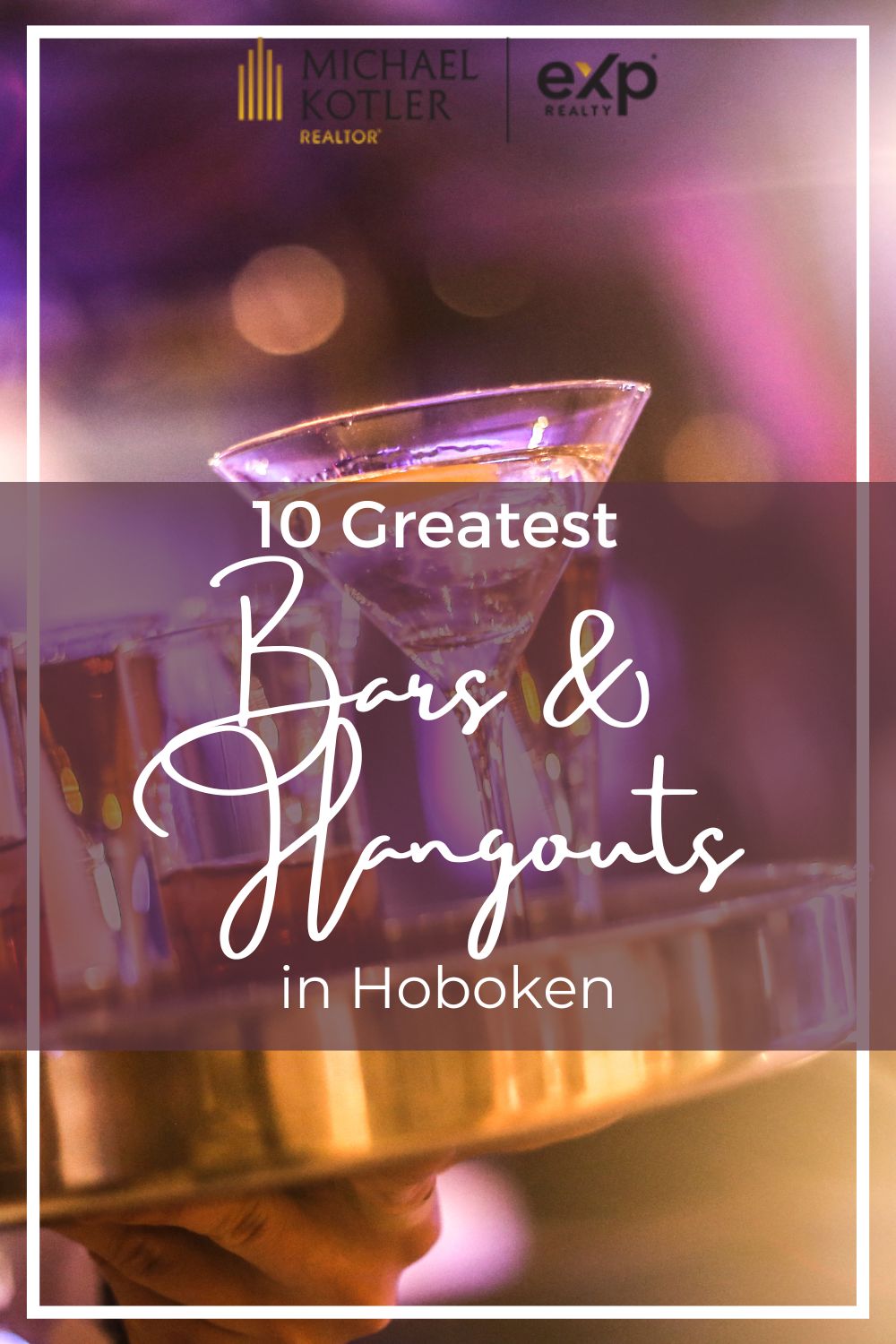 10. Pier 13
This unique bar is difficult to compare to others. Pier 13 has a distinguished location as an extension of the Hudson and offers its guests an unobstructed view of the New York City skyline. It is a well-decorated pier and offers a family-friendly beer garden. The menu offers many food selections, drinks, and activities littered throughout the week. Some daily activities include kayaking, paddle boarding, and jet skiing. A food truck on sight also draws the eye with its brightly decorated colors and artful paintings.
9. Madd Hatter
The Madd Hatter has more than 40 flat-screen TVs, making it a wonderful sports bar to view your favorite team dominating the field. The venue is lively and engaging. There is a huge island bar and 80 different kinds of beers. At 10 pm the sports bar transitions into a nightclub, offering a crazy club experience with loud music, DJs from all walks of life, and beautiful waitresses. This bar features some killer nachos with exciting flavor that packs a punch in large portions.
8. Green Rock Tap & Grill
This popular bar in Hoboken finds itself crowded. At Green Rock Tap & Grill you will find many various special offers throughout the week. Here, you are lucky to find half-price days including half-price tacos on Taco Tuesday, and happy hours on weekdays.
7. Wicked Wolf Tavern
You will find that the Wicked Wolf Tavern is popular amongst locals due to its sports bar theme, and the essentials it provides for said theme: football games on Sundays, spectacular bar food, and a good crowd! The bar's floor-to-ceiling glass wall gives you a great view of what is happening outdoors, and the signature cocktails start at $13, with fun names such as the Friends with Benefits or the Sinatra Mule.
6. Black Bear Bar & Grill
If you are interested in enjoying a good drink with friends and catching a game, the 50 HD TVs at Black Bear Bar & Grill are the place to be! The class sports bar theme offers unusually cheap beer and basic food on their menu, with a welcoming environment. Open for more than two decades, it is a favorite amongst the locals for its reliable sporting venue and special cocktails.
5. 80 River Bar & Kitchen
Open Wednesday to Saturday, this popular Hoboken bar has DJs that make appearances every Saturday and Friday. At 80 River Bar & Kitchen, you will find a comfortable outdoor pallet seating area that allows you to sit near the street with great views. The menu, unlike other bars, is extensive due to its secondary venue as a Kitchen in Downtown Hoboken. Here, you can find salads, sandwiches, wraps, burgers, and more!
4. The Shannon
This bar features two pool tables, a mega Jenga set, foosball tables, darts, and a Connect four games. The Shannon is split into two sections: the back room for communal games and a large dance floor, and the front room is styled as an Irish Pub drinking area. This old sports bar has made its history since it was opened in 1956, family-owned and operated. This Irish-style sports bar is dedicated to bringing the Irish-style culture to New Jersey, with the venue being reminiscent of its original design.
3. Belo Bar
The beautiful long bar that is the Belo Bar is inviting from the entrance. The smaller design of the venue offers an intimate setting. Brunch Sundays are particularly popular amongst the locals, and there are many delicious items on the menu including and New York-style steak served with eggs, or a veggie pritata with spinach for veggie lovers. The cocktails start at $15, with their enticing presentations and sizable portions.
2. Birch
Birch is the go-to spot for a fun night of dancing and Instagram-worthy milkshakes of various flavors. Its great location amid the bar scene in downtown Hoboken makes it a hard-to-miss bar. Birch is never lacking in a huge crowd and is one of the top dancing spots of choice for many locals. On the weekends, expect more of a club vibe than a bar scene.
1. The Madison Bar & Grill
Located along Washington Street, The Madison Bar & Grill is recommended for an older class of individuals with its elegant dining and drink venue. The food is great and the drinks are pricey, and the bar prides itself on a low-key eclectic experience. The Madison Bar & Grill is different from the other bars on this list in that it does not provide loud music or much of a party scene. There is a sizable selection of craft beers, including some with names such as the Dogfish Head, and the Ithaca Apricot Wheat Ale.
For more local information on Hoboken, NJ and fun activities or to check out the popular NEHO neighborhood in Hoboken, please browse the website.