Sell Your Home - Save a Pet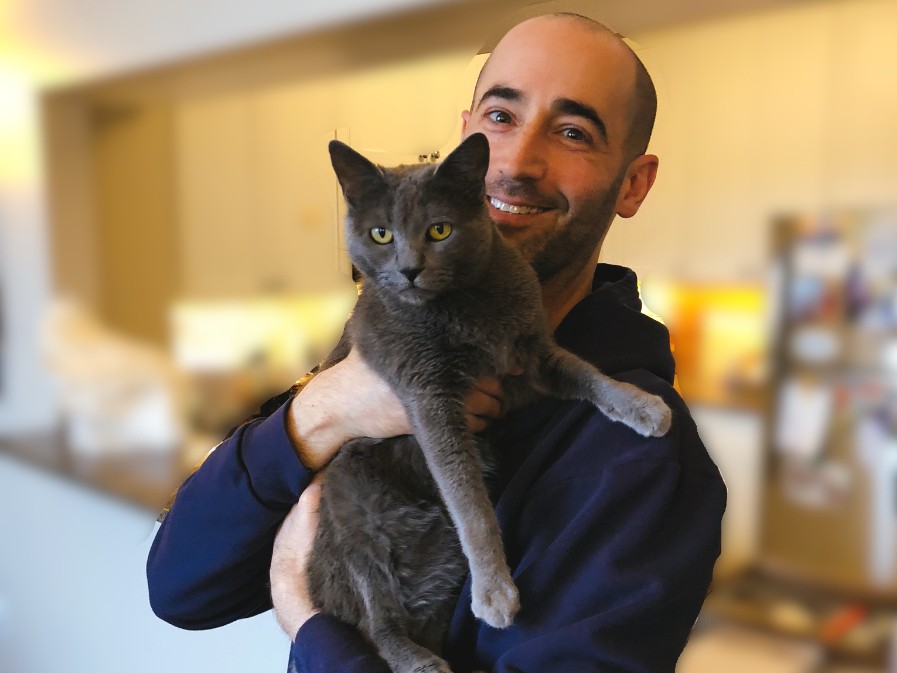 Hoboken resident and Hoboken, Jersey City, and Weehawken Realtor Mike Kotler has launched a program called Sell Your Home - Save A Pet, and is partnering with local non-profit animal rescues. Every time he helps someone buy or sell a home, Kotler donates to local rescues, enabling them to provide life-saving care for dogs, cats, and other animals in need.
Kotler, who has lived in Hoboken since 2000 and rescued his own kitten from the streets 13 years ago, is passionate about using his real estate business to give back to causes close to his heart.
"When I set up my real estate business, I decided that it was going to be mission-driven... not just to help my neighbors sell for more and buy for less... but to give back to a cause that's deeply personal to me and can affect so many lives. I'm incredibly excited to work with people who love their pets, and truly all animals".
"It breaks my heart to see animals in need. I rescued a kitten who was found on the streets 13 years ago, and I give her an amazing life. Sadly, I'm aware of how many local animals aren't receiving the same level of love and care... that they deserve. I'm determined to help these animals, and I know many of our neighbors feel the same. So now, when you want to buy and/or sell your home, and you hire me as your Realtor, you'll take comfort in knowing you're hiring a Realtor with a great track record AND someone who shares your values and takes action on them. Together we'll make an immediate and impactful difference in the lives of local dogs, cats, and other animals in need, and the people who selflessly spend their time rescuing them."
While Kotler specializes in Hoboken, Jersey City, and Weehawken, he is determined to donate as much money as possible and is including his complimentary referral service as one of the services that will result in a donation. If you live outside of his main service area (Hoboken - Jersey City - Weehawken), be it in Westfield, Livingston, Summit, Ridgewood, Montclair, Edison, New York City, Hawaii, or anywhere in-between, Kotler will speak with you about your real estate needs, and then connect you with a top local Realtor in that town (at no cost to you) who he has vetted for you, and when your sale or purchase closes, he will make his donations.
Mike Kotler is a 20+ year Hoboken resident, University of Delaware alumnus, Founder/Producer/Host of the upcoming local restaurant show "Hoboken and Jersey City Eats" (follow on IG and FB), and a Top local Realtor, with a 104.7% median sale-to-list price ratio in 2022.
To help our local animals in need, and buy or sell your home with Kotler, please email [email protected]
How can you give back to local animal shelters and rescue centers?
There are several ways to donate to local animal shelters:
Monetary donations: You can make a financial contribution to your local animal shelter by visiting their website or contacting them directly. Many shelters rely on donations to cover the costs of food, medical care, and other expenses for the animals in their care.

Donate supplies: Shelters often have lists of specific items that they need, such as food, bedding, toys, and cleaning supplies. You can check with your local shelter to see what items are needed and drop them off in person.

Volunteer your time: Many shelters rely on volunteers to help with tasks such as feeding and caring for the animals, cleaning cages, and assisting with adoption events. Contact your local shelter to find out how you can get involved.

Participate in fundraising events: Many shelters hold fundraising events throughout the year to raise money for their programs. You can support your local shelter by participating in these events or making a donation to support their efforts.

Adopt a pet: One of the best ways to support your local animal shelter is by adopting a pet from them. By giving an animal a forever home, you are not only saving that animal's life, but you are also making room for the shelter to help another animal in need.
Find Out More By Contacting Our Team